In the academic year 2021-2022, nine Dutch University Colleges will launch a pilot for an 'inter-University College Exchange' project that will allow students to study (and in many case also live) at another University College within the Netherlands for one semester.
Each of the participating UC's will have between 1 and 5 spots available per semester to receive students from other UC's.
Click on the factsheets below to see what each University College has to offer: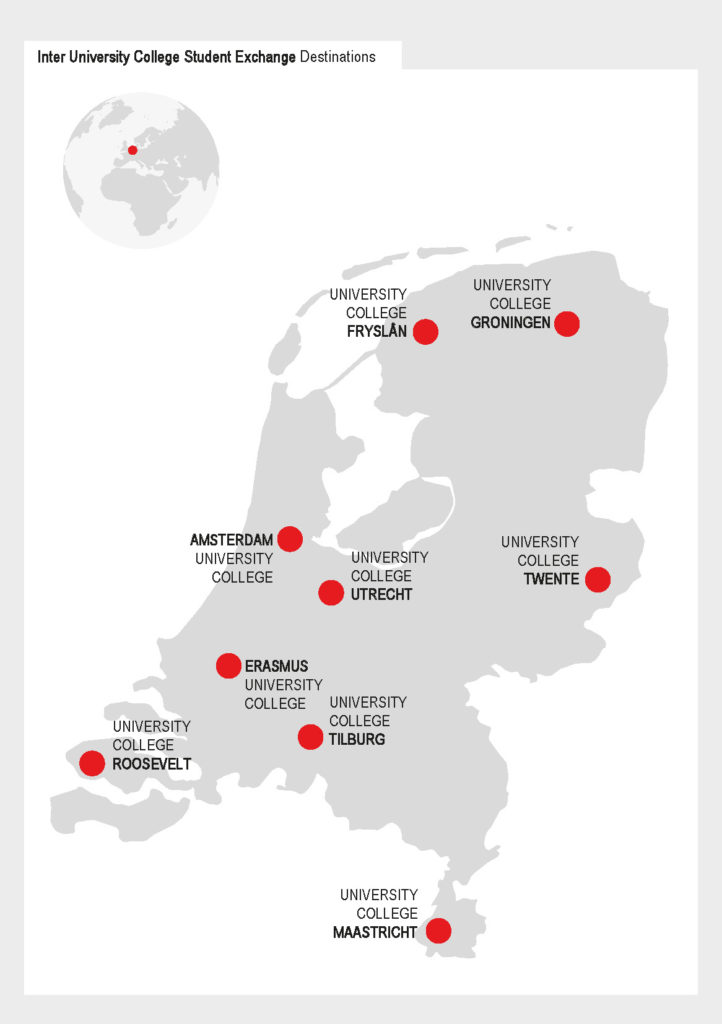 CONDITIONS:
This a 1-year pilot for the 2021/2022 academic year, subject to evaluation for the future
Preferably you take a full semester workload at the other UC (although some UC's offer the option of only registering for a few courses)
Housing options differ per college, in some cities you will have to find your own accommodation (see separate factsheets per UC)
There are no extra tuition fees, but additional costs incurred (housing & travel) are on your own account
You are strongly encouraged to move to the city of the host university college, if you live in a residential university college, then you are expected to give up your room for the incoming exchange students (exceptions may be possible at your home university college, please check in with your study abroad office).
ELIGIBILITY:
You are an eligible candidate for the inter UC exchange programme if you:
Have passed at least 85% of courses so far;
Are in good academic standing: minimum MLA/GPA 7.0/3.0
Are in your 4th or 5th semester when attending the other University College
! Please note that you will need to obtain prior approval from your home University College to confirm whether the exchange fits within your curriculum.
REQUIREMENTS:
During the exchange, you need to make sure that you take courses which fit the requirements of your home University College.
Make sure to check additional requirements with your home University College.
APPLICATION PROCEDURE:
Students from all University Colleges submit their application to the international office of their home University College. All applications will be pre-scanned* at the home institution and after this a national selection will take place for competitive spots. You may list multiple colleges of preference, therewith increasing your changes of being selected. Students submit their application package to the international office of their home UC. The application consists of:
Personal details
Preferred UC (+ one/two alternative option(s))
Course wish list
Motivation
*The home University College will check the eligibility (credits, progress, GPA, preferred courses)
INFORMATION SESSION:
On Friday, October 8 2021, there will be an online information session from 11.00 – 12.00 hrs. You can join through this Zoom link: https://uva-live.zoom.us/j/86508839788
DEADLINES:
Application deadline: Friday 15 October 2021, 23:59. Students will be informed about the outcome of the selection: end of October.
Download your Application form (PDF) or Application form (Word) and submit it to your 'own' college; the email addresses are on the application form. If you have any question, you may use that email address as well.